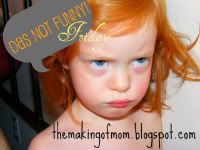 make sure to click on over to jessica's blog and check out other 'das not funny' things...
this week amelya takes the cake. :0)
amelya asked me for a snack. i told her she should pick up the playroom really fast and then she could have one...
her response : but mom, i only clean slow. ((she's got that right. :0) ))
amelya is very open with going poo, which is a good thing, i have a shy colon and don't go just any place. so last week at her great great grandma's birthday party she had to go, see me i would've held it...any ways...
she finishes and says : mom, i get tears in my eyes when i go. ((i held a straight face and replied yep honey, that's okay.))
and in honor of my great grandma's birthday this week, she turned 88, i'll share something funny i heard her say to me. :0) we were sitting on the couch together. she looks at my dad, then turns to me and says, rory's putting on a bit of weight! ((lol. i totally was shocked i just kind of shrugged my shoulders.)) then she said, but he looks good. ((lol. she is the funniest lady ever.))
when we all took pictures of us with her she said, look at what i started! ((i love her.))
so 'das not funny' here. :0)
tonight shaun is planning a date night. he has a baby sitter all planned and everything. i was originally thinking of just a date, pick up the kids after. his repsonse...i was thinking we'd have an 'all nighter'. ummmm. okay. so shaun's mom is watching the kiddos. and we're having a date night....he doesn't have to 'work' tomorrow, but is helping his uncle cut down some trees, so i'd call that work. i have no idea what we're doing for our date either. hmmm. maybe try somewhere new to go? we'll see. whatever we do, i'm so blessed that my hubby finds it important to plan a date all by ourselves. we're leaving around sixish. so i'll miss dustin's bedtime and first feeding. so i'll only have to pump twice. no biggie. and it's nice to be alone and not have to worry about dustin. i'm truly excited. i'll have to get all 'prettied' up while the kiddos take naps.
so okay. that's enough from me. have a great weekend and fun friday!!