it's friday...well not really...but i'm not going to be home tomorrow morning to post this. and i figured, does it REALLY matter? nope. it doesn't. at least not to me.
September 6, 2007
so here's me ready to go to the hospital on caitlyn's birthday!! (and i know you can't see my toes really well...but i had an AWESOME pedicure a week before and when i was pushing, we were talking about how cute they were. lol)
caitlyn's overall labor/delivery, wasn't too bad. the only downfall was that it was my doctor's surgery day and we didn't get started with labor as early as we thought. so caitlyn wasn't born til after 8pm. my mom was on her way to work and stopped in at the hospital and got to meet caitlyn before going to work, i was literally pushing as she got there. the nurses outside told her to wait a little bit. my mom said she heard a scream, (which i don't remember doing) and then a baby crying. lol. here's that little baby...
and here she is now. it's not a great great shot, but it's one of her playing in the car from the other week, and one i haven't shared yet. :0)
if you'd like to 'play along' click on the button and join in for friday photo flashback.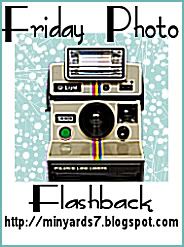 my lack of blogging this week, and commenting, and really overall internet involvement...has been all for good hard earned money. lol. i've been setting up, and running my rummage sale at my mom's house. and it's been crazy. but after today...SO worth it. we did great for our sales! and i've noticed a bit of a 'dent' in the clothes...but there's still loads left. LOCAL people: i've got a ton of NB-6X girls, and NB-12 month boys. please come and buy it...ALL!! :)
so i'll be back...probably not til next week. and hopefully with pictures of the girlies marching in the parade on sunday. our town has a big 'father's day' parade and the girls will be in it with their batons of course. and i'll be waddling along with them! 20!! TWENTY!! 2-0!! days left. i can't believe it!