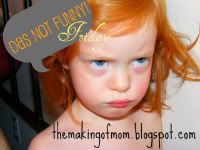 hey all. i did this last week and had a blast. so this week i'm at it again. make sure you click on that picture up there to take you to jessica's site and you can play too!! ((and i must make this quick, my house is clean...now i have the playroom to tackle...so i guess i lied my whole house isn't clean...but the parts that matter are...))
breigh again takes the focus of my 'das not funny' stuff.
breigh was once again involved in diaper changes. i explained to her dustin is a boy and that is why he has 'that'. and then she of course told me how gage has that as well. i said and daddy has that because daddy is a boy too.
oh brother!! breigh insisted daddy was not a boy.
i said, yes daddy is a boy.
don't argue with a two year old, she said "no daddy is not a boy. daddy is daddy!!"
i tried to explain how daddy is daddy and daddy is a boy, with no 'luck'. so for now, daddy is just daddy...because i'm not explaining anything else!!
because of this as well...breigh likes to come in the bathroom by me after i shower. she has seen my tookie. she always makes sure to tell me she likes it. ((thanks breigh)) well then one day before i could grab a towel, to cover up my front, she asks me this: mom, why do you have a chocolate butt?
what?!? are you kidding me?!? i will not explain this. no i won't. i have like twelve years don't i?!?! so i said...breigh, get out of the bathroom!
that was a few weeks ago. this week she comes in the bathroom and just tells me this, mom, i like your chocolate butt. i say...thanks breigh, now get out of the bathroom.
for those of you who are going to suggest a lock. it's broken. and it's a sliding door to the bathroom, so easily opened....
well 'das sure not funny'. :0)
i'm off. to pick up the play room. and rest up my arm for the 'wii-othon' tonight!!