well in celebration of my dustin's six month birthday i thought i'd share a picture of all four of my kids at that age.
there's my amelya!! we got her pictures taken at the picture people and entered this photo into a 'cute baby contest'. she didn't win!! boo hoo.


breigh breigh. this picture was taken at sears. and after they took it we realized, duh! we have one of amelya...hence began the tradition. diaper picture. on black. at six months.
caitlyn. oh so adorable!! they turned her the other way. mainly because i didn't know. and i was getting really irritated at the girl taking the pictures, which were again taken at sears.
and here's dustin. which is a flashback to yesterday. so it's all still flashing back. some just shorter than others!! and oh yeah...pictures taken 'mommy a la mode' i don't know where i came up with that. and i was not covered in ice cream. oh well. it's my term now. don't copy it. :0) lol.
to join in some more flashback fun head on over to this site!!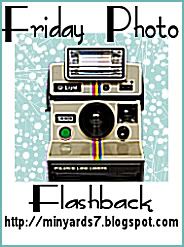 and i've been mia in the das not funny stuff....so i'm back this week with few goodies:::
we were at our local pizza place this week. breigh wanted quarters to go play some games. i explained to her that she was not getting any quarters from me. there were two cute little 'grandma ladies' walking by...breigh says "
her have quarters..."
that's because my mom, who really doesn't look like a grandma (she's almost 45), always will give them quarters when they ask. i told breigh to go ask her if she wanted to, but she didn't. and i can bet safely the lady probably would've given her a quarter. lol.
while at walmart this week i bought the girls hats. don't ask me if they needed them, i have a hat fetish. besides they were cheap. at any rate while putting it on when we were leaving amelya goes "
we can wear these hats to grandma's.....when we don't take baths
"
what is funny about that is every time my mom is on third shift she showers before work, thus during the day she wears a hat. and amelya must have caught on to my mom saying something about not showering and wearing hats. too cute.
breigh has shown minimal interest in the potty this week!! whoo hoo. because she is my putzy child i've placed a toilet seat in the living room. plus i've heard others have done it. so while on the potty seat i told breigh to go potty she says '
my little potty is broke'
while pointing to herself. then after she gets off the toilet it was bed time. she tells me
'i fall asleep on the toilet'
lol. i don't know where she comes up with this stuff. but she's cute and funny.
wanna join in more das not funny fun?? click on the button below: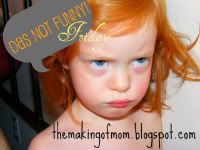 thanks for all the comments on my vlog in the post below. shaun is still making fun of me as well as my sister for the whole peace ouuuuuuuuuuuuut. comment. oh well. it's me. i'm a dork. :0) so that's that. we have a busy day ahead today and tomorrow. and it's shaun's weekend to work. yippee. have a great weekend. and peace ouuuuuuuuuuuut. :0)